SEPTEMBER 8-10, 2022
ONLINE MEETING
Continuing Medical Education
The Endocrine Society is accredited by the Accreditation Council for Continuing Medical Education (ACCME) to provide continuing medical education for physicians. The Endocrine Society has achieved Accreditation with Commendation.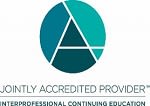 In support of improving patient care, this activity has been planned and implemented by the Postgraduate Institute for Medicine and the Endocrine Society. Postgraduate Institute for Medicine is jointly accredited by the Accreditation Council for Continuing Medical Education (ACCME), the Accreditation Council for Pharmacy Education (ACPE), and the American Nurses Credentialing Center (ANCC), to provide continuing education for the healthcare team.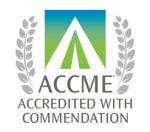 The Endocrine Society designates this activity for a maximum of 28
AMA PRA Category 1
Credits*. Physicians should claim only the credit commensurate with the extent of their participation in the activity.
Please note that while other accrediting bodies accept AMA PRA Category 1 credit, we can only award and report this credit for MDs/DOs. For those outside of this accreditation, please complete the participation evaluation and use that certificate as proof of attendance to submit to your accrediting body.

Successful completion of this CME activity, which includes participation in the evaluation component, enables the participant to earn up to 19.75 Maintenance of Certification (MOC) points in the American Board of Internal Medicine's (ABIM) Maintenance of Certification (MOC) program. It is the CME activity provider's responsibility to submit participant completion information to ACCME for the purpose of granting ABIM MOC credit.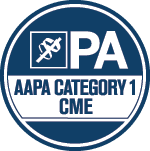 Postgraduate Institute for Medicine has been authorized by the American Academy of PAs (AAPA) to award AAPA Category 1 CME credit for activities planned in accordance with AAPA CME Criteria. This activity is designated for 28 AAPA Category 1 CME credits. PAs should only claim credit commensurate with the extent of their participation.
ANCC:
The maximum number of hours awarded for this Continuing Nursing Education activity is 19 contact hours. Pharmacotherapy contact hours for Advance Practice Registered Nurses to be determined.
ACCESS DEADLINES
November 10, 2022: credit claim expiration
December 31, 2022: access to CEU virtual platform expires
December 31, 2023: access to CEU recordings expires
CREDIT CLAIM INSTRUCTIONS
For AMA PRA, ABIM MOC, and Participation Credits:
1.
Visit
education.endocrine.org
2.
Select "My Courses" or the Home icon on the left-hand side
3.
Search for and click on CEU 2022
4.
Complete the evaluation
5.
Claim credit commensurate with your participation
For AAPA Category 1 Credits and ANCC/APRN Contact Hours:
1.
Go to
www.cmeuniversity.com
2.
Login or Create a New Account (will take less than 1 minute)


If you receive a message when creating a new account that "the email you entered is already in use", please click the Forgot my Username or Password link to have your Username and Password sent to you via email

After logging in, you may be asked to verify/update your information; after doing so, click Save at the bottom of the page

3.
Type in
17325
at top of page, "Find Post-Test/Evaluation by Course", and click enter
4.
Click on the activity title when it appears
5.
Choose the type of credit you desire
6.
Complete the online assessment
7.
Receive an immediate CME/CE Certificate to download and/or print for your files
If you have questions regarding the certification of this activity, please contact PIM via email at
inquiries@pimed.com
.
STATEMENT OF INDEPENDENCE
As a provider of CME accredited by the Accreditation Council for Continuing Medical Education, the Endocrine Society has a policy of ensuring that the content and quality of this educational activity are balanced, independent, objective, and scientifically rigorous. The scientific content of this activity was developed under the supervision of the Endocrine Society's Clinical Endocrinology Update Steering Committee.
DISCLOSURE POLICY
The faculty, committee members, and staff who are in position to control the content of this activity are required to disclose to the Endocrine Society and to learners any relevant financial relationship(s) of the individual or spouse/partner that have occurred within the last 24 months with any commercial interest(s) whose products or services are related to the content. Financial relationships are defined by remuneration in any amount from the commercial interest(s) in the form of grants; research support; consulting fees; salary; ownership interest (e.g., stocks, stock options, or ownership interest excluding diversified mutual funds); honoraria or other payments for participation in speakers' bureaus, advisory boards, or boards of directors; or other financial benefits. The intent of this disclosure is not to prevent planners with relevant financial relationships from planning or delivery of content, but rather to provide learners with information that allows them to make their own judgments of whether these financial relationships may have influenced the educational activity with regard to exposition or conclusion. The Endocrine Society has reviewed all disclosures and resolved or managed all identified conflicts of interest, as applicable.
The following CEU Committee Members reported relevant financial relationships:
Jennifer Sipos, MD: Author, UpToDate
Bradley D. Anawalt, MD: Author, UpToDate
Anders L. Carlson, MD: Research Investigator, Insulet, Medtronic, Abbot¬t, Dexcom, Sanofi, Novo Nordisk, Eli Lilly, UnitedHealth; Consulting/Advisory Board, Medtronic
Whitney Woodmansee, MD: Previous Employer, Eli Lilly and Company; Consulting, Biomedical Systems; Advisory Board, Corcept; Stock Option: Eli Lilly and Company
The following CEU steering committee members reported no financial relationships:
William Troy Donahoo, MD; Matthew T. Drake, MD, PhD; Dana Z. Erikson, MD; Anne Knape MSN, APRN-NP; Cecilia C. Low Wang, MD; Elizabeth N. Pearce, MD, MSc
Disclosure information for presenters is included in their individual recorded presentations.
Endocrine Society staff associated with the development of content for this activity reported no relevant financial relationships.
The PIM planners and others have nothing to disclose.
DISCLAIMERS
USE OF PROFESSIONAL JUDGMENT:
The educational content in this activity relates to basic principles of diagnosis and therapy and does not substitute for individual patient assessment based on the health care provider's examination of the patient and consideration of laboratory data and other factors unique to the patient. Standards in medicine change as new data become available.
DRUGS AND DOSAGES:
When prescribing medications, the physician is advised to check the product information sheet accompanying each drug to verify conditions of use and to identify any changes in drug dosage schedule or contraindications.
POLICY ON UNLABELED/OFF-LABEL USE
The Endocrine Society has determined that disclosure of unlabeled/off-label or investigational use of commercial product(s) is informative for audiences and therefore requires this information to be disclosed to the learners at the beginning of the presentation. Uses of specific therapeutic agents, devices, and other products discussed in this educational activity may not be the same as those indicated in product labeling approved by the Food and Drug Administration (FDA). The Endocrine Society requires that any discussions of such "off-label" use be based on scientific research that conforms to generally accepted standards of experimental design, data collection, and data analysis. Before recommending or prescribing any therapeutic agent or device, learners should review the complete prescribing information, including indications, contraindications, warnings, precautions, and adverse events.
PRIVACY AND CONFIDENTIALITY STATEMENT
The Endocrine Society will record learner's personal information as provided on CME evaluations to allow for issuance and tracking of CME certificates. The Endocrine Society may also track aggregate responses to questions in activities and evaluations and use these data to inform the ongoing evaluation and improvement of its CME program. No individual performance data or any other personal information collected from evaluations will be shared with third parties.
Event Information
September 8-10, 2022
Online Meeting


Important Dates
April 12, 2022:
Registration Opened

July 28, 2022
Early Registration Deadline